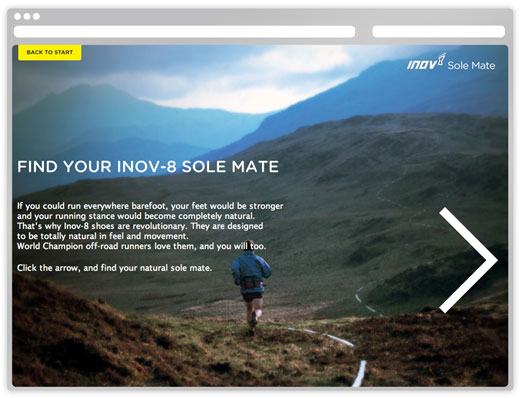 INOV-8 SOLEMATE
Google App Engine Bluespark Logic Engine Recommendation Tool Photoshop view
Inov-8 Solemate was developed for Inov-8 running New Zealand. Inov-8 sells cutting edge technical running shoes for off-road and trail.

The Solemate website helps guarantee that a runner is selecting the right type of shoe for their body weight, foot shape and running terrain. This powerful recommendation tool is run on Google App engine which makes it fast and scalable. It also features a carefully crafted logic engine that can make complicated recommendations yet is very easy to manage. Developed together with Talk Me Into It who also produced OlayForYou.com.

This tool can customised to handle many questions with a handful of products to a system with over hundreds of products. Get in touch if you think this tool could help your business.
---

email
John Ballinger
| ph 021 438 564 @ 2 Stuart St, Ponsonby 1011, Auckland.