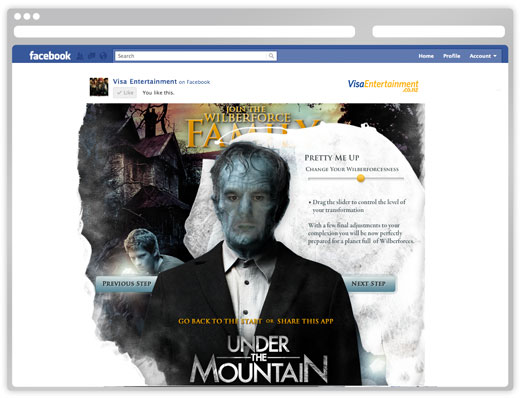 UNDER THE MOUNTAIN
Facebook API Post to Wall WebCam Amazon S3 Image Uploader Flash AS3 PHP SQLite Photoshop view
Under The Mountain is a Facebook app that was used to promote the New Zealand film of the same name.

The key ingredient of this app allowed users to use their webcam or any photo that would be converted into the Wilberforce character from the film. The application allowed the user to align this photo then applied an ageing treatment to this image to make the photo appear a lot older.

When the user was done they could click a button to quickly save and share this photo to their wall.
---

email
John Ballinger
| ph 021 438 564 @ 2 Stuart St, Ponsonby 1011, Auckland.