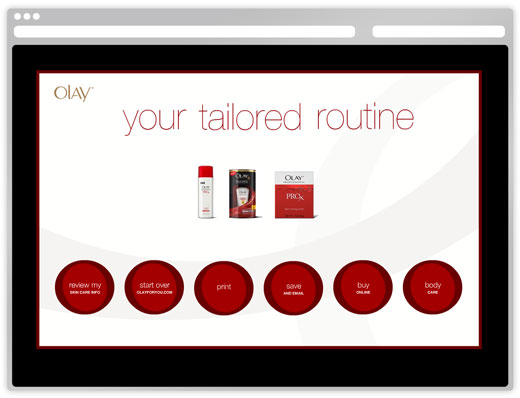 OLAY FOR YOU
ActionScript 2.0 Google App Engine Bluespark Logic Engine Flash Flex Asset Management System Photoshop Scripting MTASC SWFMILL Photoshop view
Olay For You started in 2008 together with Talk Me Into It to build the site and tools around Olay For You. This site has been designed to provide women with a tailored routine for their daily skin care needs.

The site has been so successful that it has ben translated into, Russian, Spanish, French and British English. Olay have also used this tool to create for their body care products.

Behind the scene is a custom asset management tool that is used to manage and update all the assets and a customer service tool for telephone operators to assist Olay customers.

Lastly this site has a custom built tool to manage and track all user interaction within the Flash site to provide metrics of users choices and products recommendations.
---

email
John Ballinger
| ph 021 438 564 @ 2 Stuart St, Ponsonby 1011, Auckland.